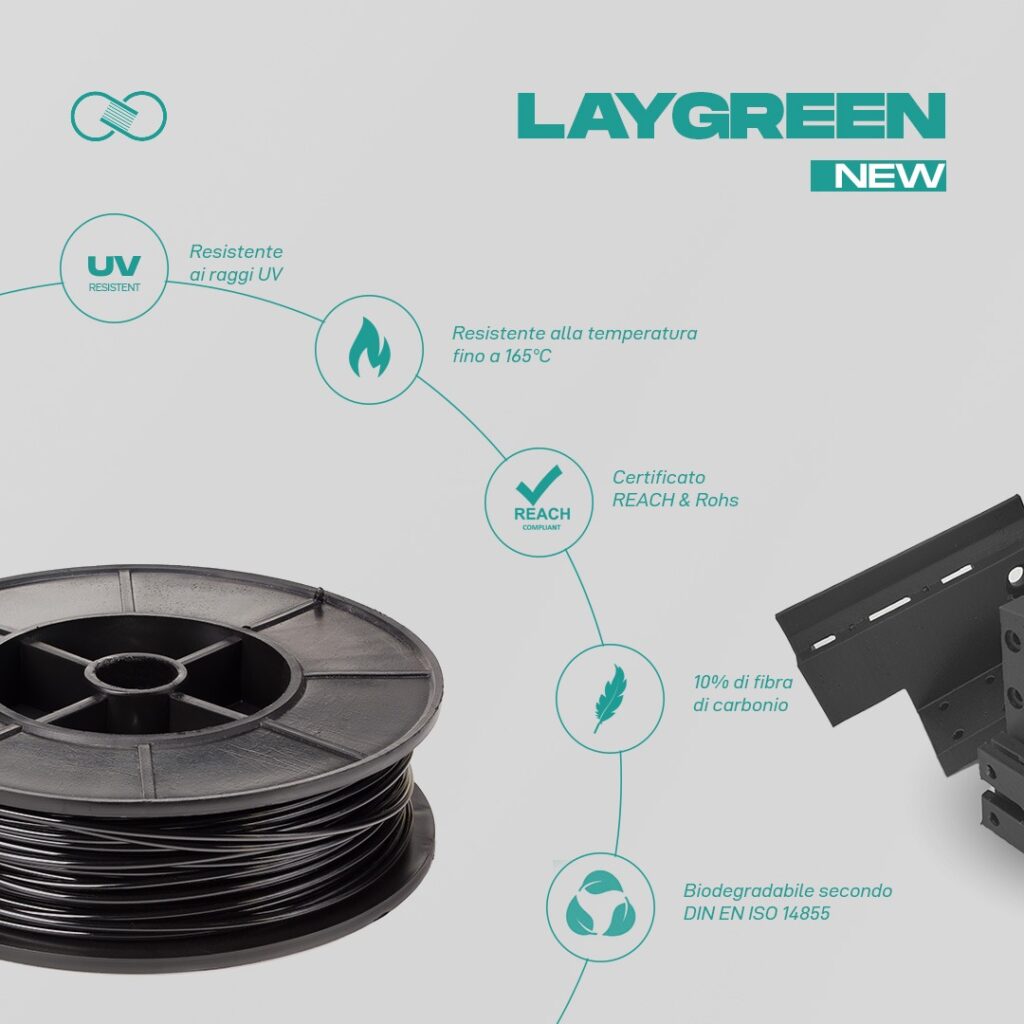 The world of 3D printing demands increasingly durable and high-performance materials. To meet this need, Layerloop has developed two new advanced 3D printing materials: Laygreen Pro and Laygreen Carbon. Both materials are designed to withstand high mechanical and thermal stresses, and are ideal for industrial applications.
The 3D material for the automotive industry - Laygreen Pro
Laygreen Pro is a filament for 3D printing highly resistant material that is part of Layerloop's BIO Performance range of materials. This material was developed for applications requiring high performance in terms of mechanical and thermal resistance. Laygreen Pro has demonstrated excellent flexural strength and dimensional stability during the printing process, achieving excellent aesthetic results.
Features:
Biodegradable according to DIN EN ISO 14855
Odourless, certified for food contact and FDA approved
3D material sector:
FDA compliance of Laygreen Pro makes it ideal for applications in the Food & Beverage sector, where replacement parts for industrial machinery and automation lines that come into direct contact with foodstuffs are required. In addition, Laygreen Pro is a green alternative to traditional materials such as ASA, ABS and Nylon, and can therefore be widely used in the automotive sector due to its UV and weather resistance.
Specific Application:
Laygreen Pro is particularly suitable for the production of brackets, spare parts for top-loading packaging machines (TLM technology), where mechanical strength and dimensional stability are essential to ensure efficient machine operation.
In conclusion, Laygreen Pro is a highly durable and sustainable 3D printing material, perfect for industrial applications requiring high performance in terms of mechanical and thermal resistance.
The high-performance 3D consumable - Laygreen Carbon
Laygreen Carbon is the ideal 3D consumable for those seeking maximum strength and lightness. Its special composition makes it a biodegradable and sustainable material, enhanced by the exceptional mechanical properties of carbon fibres, which guarantee high resistance to high temperatures and greater dimensional stability.
Features:
With a carbon fibre load of 10%, Laygreen Carbon has a temperature resistance of up to 165°C (Vicat VST), is REACH & Rohs certified and UV resistant like ASA.
Sector:
Its strength makes it perfect for the motorsport industry and for the production of medical components thanks to REACH & RoHS certifications. Laygreen Carbon is also ideal for metal replacement in all sectors where lightness is crucial, such as transport.
Specific Application:
The 3D Laygreen Carbon consumable is ideal for the production of components installed in the engine compartment, with internal channels through which coolant passes, ensuring maximum strength and reliability.
Find your nearest reseller of our 3D materials for durable and flexible 3D printing and come and see for yourself Layerloopthe first industrial 3D printer for mass production.